Premium research-grade confocal Raman microscope for chemical and structural analysis
RG Raman microscope perfectly suits for any kind of demanding Raman spectroscopy applications that require high spectral and spatial resolution, long mapping range, extremely stable laser power, high sensitivity and broad spectral range (from low frequency to high frequency Raman shift).
RG Raman microscope provides diffraction limited spatial resolution, extremely high throughput and additionally equipped with transmitted visible light microscopy on separate camera sensor. RG Raman microscope can be used in upright microscopy and inverted microscopy configurations. All what is need for switching between modes – flip the device from top to bottom.
This instrumental setup allows for both sample viewing using the optical microscopy capabilities and performing measurements by Raman spectroscopy simultaneously.
The visual observation reveals morphological details of a sample (e.g. color, size, shape), whereas the spectroscopic measurement reveals information about the molecular structure and chemical composition of a sample.
Thanks to modular design RG Raman microscope can be equipped with RG Raman spectrometer or miniRaman spectrometer.
When equipped with RG Raman spectrometer
When equipped with miniRaman spectrometer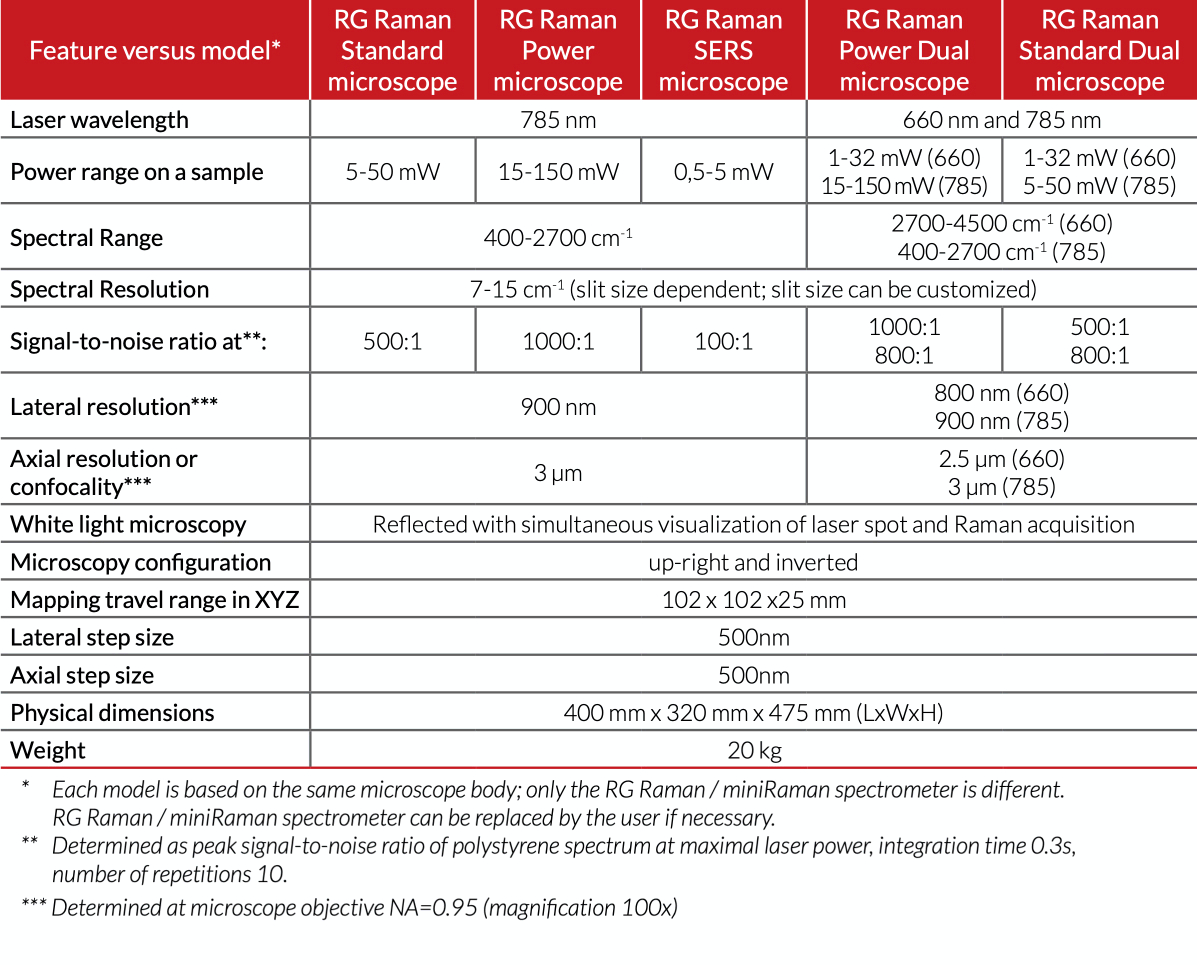 long working distance probe, f=30 mm
middle working distance probe, f=15 mm
short working distance probe, f=6.25 mm
objective covers
adapters for standard microscopy objectives
microscope objectives with magnification 10x, 20x, 50x, 100x
custom microscope objectives available upon request
Surface Enhanced Raman Scattering
Materials science
Pharmaceuticals
Life science
Polymers
Nano-materials
Semiconductors
Cosmetics
Forensics
Art & museum
Geology
and our managers will contact you soon